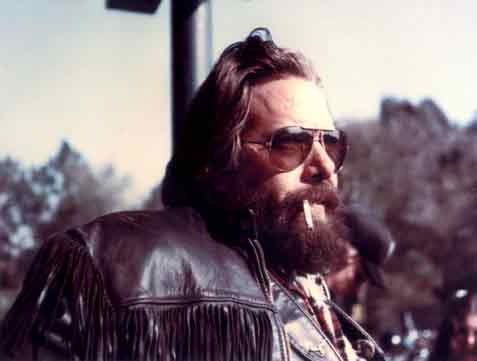 The late Bill Casperson, proprietor of Bill's Bikes, was a mountain of a man with a heart of equal dimensions. Casperson transferred his love for helping all his customers into bringing happiness to youngsters from unfortunate circumstances and families in financial difficulty.
Casperson died of cancer in 1995, but his work continues through Palm Beach County Motorcyclists' Toys for Tots Inc. Last year, Bill's Bikes Toy Run accounted for more than 20% of all toys and monetary contributions for Toys for Tots in Palm Beach County.
The History of Toys For Tots!
1947 The late Colonel William "Bill" Hendricks founds the Marine Corps Reserve Toys for Tots Program in Los Angeles, California. 5000 toys collected during a two week campaign.


1948 The United States Marine Corps Reserve adopts the Toys for Tots Program as a nationwide effort, incorporating it into a community service program to be conducted by their local reserve units across the country.
Walt Disney Designs the first national Toys for Tots poster, incorporating the now famous Toys for Tots train logo. The posters have become a recognized part of the annual program, and through the years have featured such notable characters as Mickey Mouse, Donald Duck, Dennis the Menace, Bugs Bunny, and the Road Runner. Posters have also been designed by a member of the Association of Handicapped Artists and by the Marine Corps Reserve Artists.


1949 Major Celebrities begin to endorse The Marine Corps Reserve Toys for Tots Program. Throughout the years, Toys for Tots spokespersones have included such notables as John Wayne, Bob Hope, Frank Sinatra, George Strait, Danny Thomas, Brooke Shields, Charlton Heston, Ann Margaret, Sammy Davis, Jr., Doris Day, Andy Griffith, Charlie Daniels, George Harrison, Babara Eden, Glen Campbell, Lorrie Morgan, Johnny Carson, and Ricky Van Shelton, among others.


1956 Oscar winning songwriters Sammy Fain and Paul Webster compose the Toys for Tots theme, which was later recorded by Nat King Cole.


1959 Toys fot Tots goes international. Although the program is designed to be a local program for local children, Toys for Tots went on an international basis on three occasions. The first followed the catastrophic typhoon that devastated the city of Nagoya, Japan in 1959. The other two occasions were to the Republic of Panama following the invasion in 1988, and to the Caribbean following Hurricane Hugo in 1989.


1960 KABC-TV of Los Angeles receives the highest non-millitary award possible from the Commandant of the Marine Corps for sponsorship of a spectacular Toys for Tots Circus.


1962 New York Yankees sponsor the first major sports event to benefit Toys for Tots, a bring a toy game with the Washington Senators. Since then, the world of professional sports, both teams and individual athletes from virtually every sport, have rendered their support to the Marine Coprs Reserve program.


1970's - 80's Toys for Tots continued to grow as did public support for the Marine Corps Reserve Program. Local and National companies became involved and local civilian organizations and individuals began to assist the Reserve units with their local programs. Program grows to the level of about 8 million toys annually.


1990 First national television network promotion for Toys for Tots. King World, Merv Griffin Productions' "Wheel of Fortune" and Pizza Hut run a three week promotion for the Toys for Tots program, resulting in over 3 million dollars being donated to the Marine Reserve Toys for Tots Foundation for the purchase of toys. It set serveral Guinness Book of World Records for participation and donations received from a home call contest.


1991 The Marine Corps Toys for Tots Foundation is founded to support the Marine Corps Reserve in running their Toys fot Tots Program. Foundation is authorized by Marine Corps Headquarters and the Secretary of Defense to act as Toys for Tots promotional and fund raising representative.


1992 First Toys for Tots newsletter is published and circulated to Reserve Units and Marine bases accress the country. Dedication ceremonies mark the opening of the new National Headquarters for the USMCR Toys for Tots Foundation in Amherst, New York.


1992 First Toys for Tots newsletter is published and circulated to Reserve Units and Marine bases accress the country.
The US Marine Corps Reserve Toys for Tots program is currently conducted in nearly two hundred cities nationwide and collects or purchases approximately eight million toys annually providing close to 3.75 million needy children with their special Christmas wish. The Marine Corps Reserve Toys for Tots has become an American tradition, having helped in excess of 100 million children throughout the years.
Dec. 07, 2023 10:25 PM EST Visitors - 547,234
this entire site copyright© 1987 ---> 2012,2013,2014,2015,2016,2017,2018,2019,2020,2021,2022,2023 Contact Us West Palm Beach, FL.